Riodinidae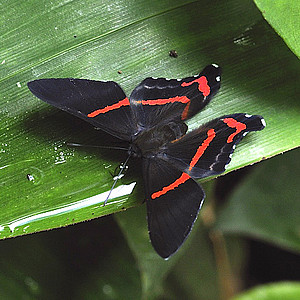 About 1.300 species de riodinid "Metalmarks" occur in the Neotropics., distributed in the subfamilies Euselasiinae e Riodininae (Lamas 2004).
Most have a small size and some species are among the mimicry complex (Beccaloni, 1997).
Not occur in fruit traps (with rotting fruit), but are observed feeding on rotting carrion as well as puddling and flowers (Hall & Willmott, 2000).
As lycaenid, in this family also occur species that show interactions with ants. See example of interaction in the Neotropical savana in Kaminski (2008).
Subfamilies