Towards a field guide of Amazonian butterflies
As a part of worldwide efforts to increase and spread knowledge on biodiversity and the preservation of species on earth, this site intends to contribute to the scientific communication and knowledge on butterflies in the Amazon. By doing so we hope to help optimizing surveys of butterfly assemblages in remote regions and multiplicating the number of admirers of nature and species.
The initiative is based on the work of Dr. Rose Vieira, a Brazilian ecologist with field experience in forests of the central Amazon region around Manaus and in Acre. She is currently visiting researcher and curator at the State Museum of Natural History in Karlsruhe, Germany through funding of the German Federal Cultural Foundation in the program "International Museum Fellowship".
A group of contributors has been crucial to the growth of the collection of images, with photographs taken mainly around Manaus, but also in other regions of the Brazilian Amazon. Species are being gradually available trying to cover the six families of butterflies. When is possible, the species are presented in their natural environment and /or as specimens in scientific collections. Thus, it is possible to show the details of the wing that can help in taxonomic identification. All images are accompanied by concise information about the biology of the species, based on field observations or literature.

Families
Species of the lepidopteran superfamilies Papilionoidea (Pieridae, Papilionidae, Lycaenidae, Riodinidae, Nymphalidae) and Hesperioidea (Hesperiidae) can be accessed through a scientific classification.
more »

Field Guide
On this page butterfly species can be found through filtering by color, habitat, distribution or systematics.
more »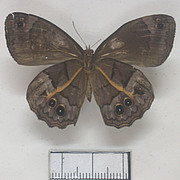 Posttaygetis penelea

(Cramer, 1777)

Posttaygetis penelea is associated vegetation with bamboo (G…

more »